Stardog Cloud for Connected Enterprises
Today, I am proud to announce the launch of Stardog Cloud. As the platform goes live, I want to talk about the forces driving the cloud strategy for enterprises, the rationale, and the market need that led us to add Stardog Cloud to our product constellation.
As we all know and agree, data rules the world. But organizations are struggling to leverage that data to competitive advantage. Raw, uninterpreted data in a system somewhere isn't very helpful. To be helpful it must be related to the business context of the enterprise that owns it. In other words, what matters more than data is business meaning. The primary goal of IT is to derive actionable knowledge from mere data, in order to make better decisions - the true hallmark of a connected enterprise.
How do you create a connected enterprise?
Enterprise data management (EDM) today is fundamentally broken. Each application is powered by its own data silo. Integrating data between applications often requires extraction, translation, modeling, and mapping to make those applications speak to one another. Each application's unique data model means that developers, data scientists, and data engineers spend more time building, testing, and managing custom code that supports this workflow than doing their actual day jobs. As I wrote in a recent Forbes Technology Council article, "Data scientists spend as much as 80% of their time wrangling data — a necessary, but insufficient condition to understanding it. This time wasted on struggling with data silos means less time to discover new products and buying patterns, achieve cost efficiencies or streamline processes."
Right now most enterprises are disconnected; their value is not fully realized. There is a yawning gap between enterprise data and what it means. Can your business understand what data means and act accordingly? Is your business future-proof?
The future is hybrid and multicloud. Are you ready?
At least this problem is getting harder to solve! The hybrid, multicloud IT environment is going to be the bomb that explodes conventional enterprise data management, nearly all of which is essentially premised on data location rather than on data meaning. So an EDM strategy that addresses that future now is well-positioned to win.
Enterprises are moving data assets to the cloud in droves. However, the cloud is really just someone else's data center. Moving data into someone else's data center doesn't magically connect data. A data silo in the cloud is no better, no more connected, than a data silo on-premise.
And, even more critically, there isn't just one cloud. Every enterprise already has multiple cloud providers or will soon. The multicloud scenario is one where every large enterprise ends up with data assets in more than one of Amazon Web Services (AWS), Google Cloud Platform (GCP), Microsoft Azure, Oracle, etc. Market leaders will choose to adopt multiple cloud providers to reduce vendor risk or optimize certain capabilities. Or they will inherit multiple cloud providers due to M&A or patchwork LOB decision-making.
But the future isn't just multiple cloud environments, it's also hybrid cloud. Many or even most data assets will move to one or more of the public clouds, but some (even if only a few) data assets will remain on-prem for a variety of reasons leading to a hybrid, multicloud reality. So, from a data point of view, the problem of disconnected data is getting worse because the number of places where data assets may reside is actually increasing. Oops!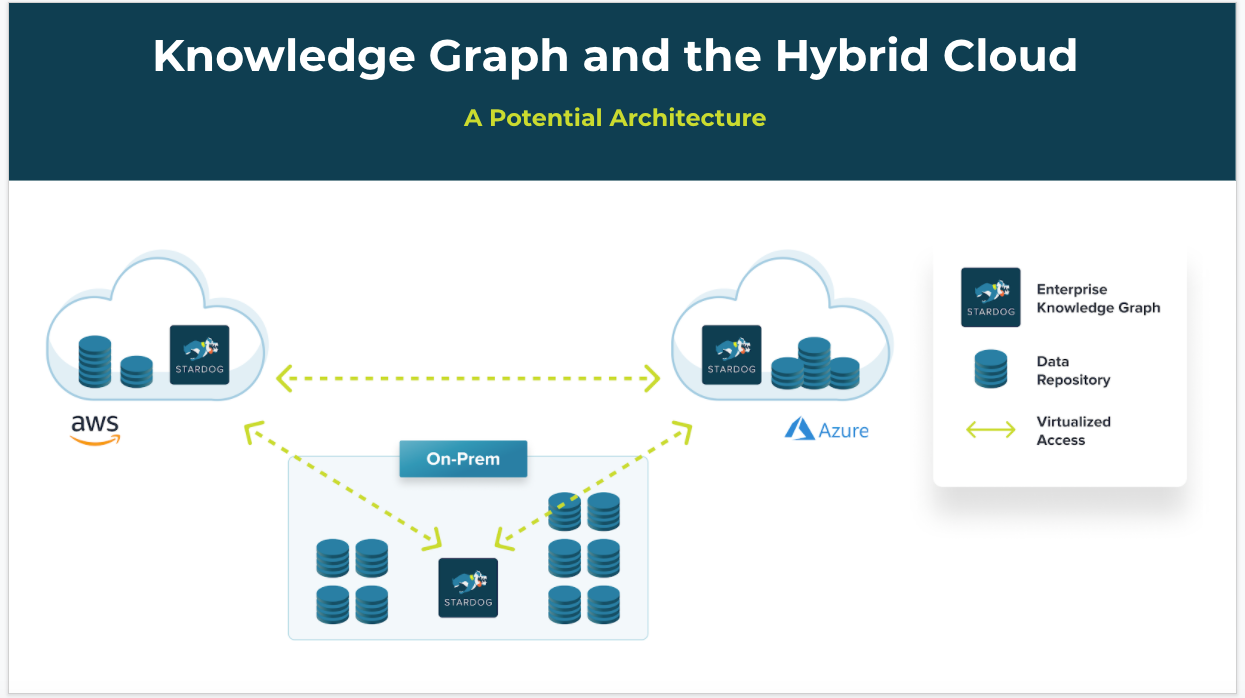 So what's the right response to these trends?
Enterprises should focus not so much on where their data is and instead they should really only care about what the data means to the business itself. Data location cleanly separated from business meaning means the enterprise can rationally pursue storage and cloud unit economics advantages without setting everything else on fire.
There is no better way to integrate disconnected data no matter where it lives than an Enterprise Knowledge Graph (EKG). An EKG is the linchpin to how businesses can maintain (or begin) a data-centric strategy while operating in a more complex infrastructure. And, these conversations on 'how' have only become more important as the gravitational pull of hybrid multicloud has grown stronger in the past year. These uncertain times have accelerated digital transformations and that in turn has accelerated one of the fundamental pieces of modern IT transformation, the move to the cloud.
Stardog goes where the data is, so it may be connected, so that enterprises may flourish
Maximal business value requires connecting all the data that matters. The modern-day enterprise is inherently a network. In other words, it's a loosely-connected institution distributed over space and time. But we know that the value of a network grows exponentially as you add more connections to the network. A bigger, denser network is more valuable than a smaller, sparser network; where bigger means the number of connected entities or "nodes" is larger and denser means the number of connections or "edges" is also larger.
But data management systems haven't kept pace. They're mostly still stuck in the old world where top-down, command-and-control systems consolidated data, physically, at the storage layer rather than connected it at the compute layer. As Eric Brethenoux, Gartner Analyst and, expert in Knowledge Graphs and Graph Databases says, "You don't need to run 5,000 iterations to find out that two things don't correlate to each other. You know with one or two that logically they correlate to each other." A connected enterprise is one where data, no matter where it is stored, is connected at the compute layer using a data management product like Stardog, so that all aspects of the enterprise can make decisions based on knowledge. Stardog is the industry's first cloud-native Enterprise Knowledge Graph Platform that connects data in every cloud as well as on-prem environments. Stardog is a platform built to power the connected enterprise.
The key to thriving in the hybrid multicloud world is to build a reusable, resilient data fabric that can keep pace not only with well-understood, scoped projects but also to address unanticipated questions. As a consequence, connected enterprises are proactive rather than reactive. And that's the real reason why Stardog goes everywhere the data is—on-prem and in the cloud.
Start today
Contact our team to get Stardog Cloud. Want to learn more? Join me at the upcoming Knowledge Connexions conference for a select preview of the Stardog Cloud use cases.