Semantic Layer for Databricks
The Ultimate Semantic Layer for your Lakehouse

Innovative companies like Databricks and their lakehouse approach help organizations simplify their data architecture by unifying their data, analytics, and AI workloads on a common platform. Lakehouses are effectively becoming the prime design pattern for consolidating data naturally amassed in silos, which is critical for modern data management strategies and enabling all analytical workloads. However, to deliver even more ROI for an organization, these lakehouses need to demonstrate business value. That means being able to answer complex questions by connecting relevant data elements and providing true context and greater meaning to data by modeling relationships.
Stardog's Enterprise Knowledge Graph platform powers a "critical middle" semantic data layer to accelerate returns from your lakehouse investment. By connecting enterprise data and overlaying business semantics, knowledge graphs facilitate more agile data operations, reduce the cost of data integration, and help generate powerful insights into complex business challenges.
Harmonize data with business meaning
Data consumers can easily define relevant business concepts and relationships as a semantic data model meaningful to their use-case with our no-code, low-code visual modeling tool. Data can be shared and reused through a common, standards-based vocabulary. The semantic model can be enhanced with data quality constraints applicable to the business context.
Connect to all relevant data
Data wrangling continues to hinder feature engineering and data science productivity with data both inside and outside the lakehouse. Link to relevant data outside the lakehouse with one of our 150+ connectors, including unstructured text. Stardog's platform is underpinned by a highly efficient, robust, and ACID-compliant graph database. Ensure near-real-time responses on up to 100 billion data points per installation.
Enable data exploration and discovery
Ask and answer questions across a diverse set of connected data domains to fuel business insights without specialized skills. Inference creates new relationships by interpreting your source data against your data model. By expressing all the implied relationships and connections between your data sources, you create a richer, more accurate view of your data. This includes the ability to represent multiple definitions for the same data, empowering collaboration between stakeholders and expressing situational or theoretical truths.
Learn more:
Global Biotech Pioneer Harnesses Stardog + Databricks to Power Insights and Drive Innovation
Growing levels of data volume and distribution are making it hard for organizations to exploit their data assets efficiently and effectively. Data and analytics leaders need to adopt a semantic approach to their enterprise data; otherwise, they will face an endless battle with data silos."

Ad-hoc report requests went from taking 5+ days to taking 1 day."
Features
Enterprise scalability
Scale up to 1 trillion triples; we're also Kubernetes compatible and ACID-compliant.
Standards-based
Stardog is built on open W3C standards designed to facilitate interoperability and exchange of data.
Built-in ML
Use built in predictive analytics and similarity search to develop models to improve recommendations in search results.
Explainable
Where some AI tools cannot provide explanations for results, Stardog offers proofs for all query results for easy interpretation.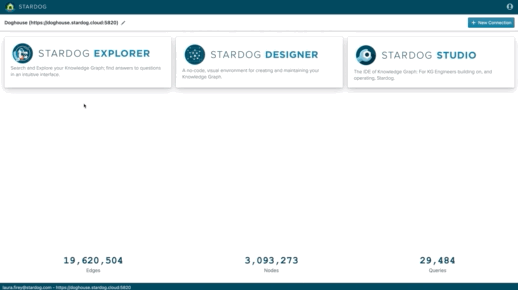 Turn your columns into concepts
Stardog makes creating a knowledge graph easy directly from Databricks. Watch how to connect data from your lakehouse into a semantic layer which feeds your existing BI tools.
Watch the demo