As Britain's largest commercial broadcaster, ITV produces, exploits and distributes content globally via its Media and Entertainment division and its Studios division. ITV's ownership of a large and popular portfolio of shows is critical IP asset that "underpins ITV's competitive advantage."
The importance of rights management
Today, as audience viewing habits continue to evolve, content and advertising are now distributed both via linear broadcast and on-demand. This evolution is the impetus for ITV's digital transformation initiative, which aims to bring brilliant content to audiences wherever, whenever, and however they choose and to enhance the way ITV staff work by improving operational systems, including rights management.
According to ITV's 2020 Annual Report, rights management is one of four enablers to the successful delivery of ITV's strategic vision.
"By developing, owning and managing the rights to content, ITV is able to maximise the value of its programme brands across four pillars of value: ITV Studios; Linear Broadcast; AVOD and Direct to Consumer (in particular subscription video on demand (SVOD). This ensures ITV is a more diversified business and enables it to drive value from different revenue models."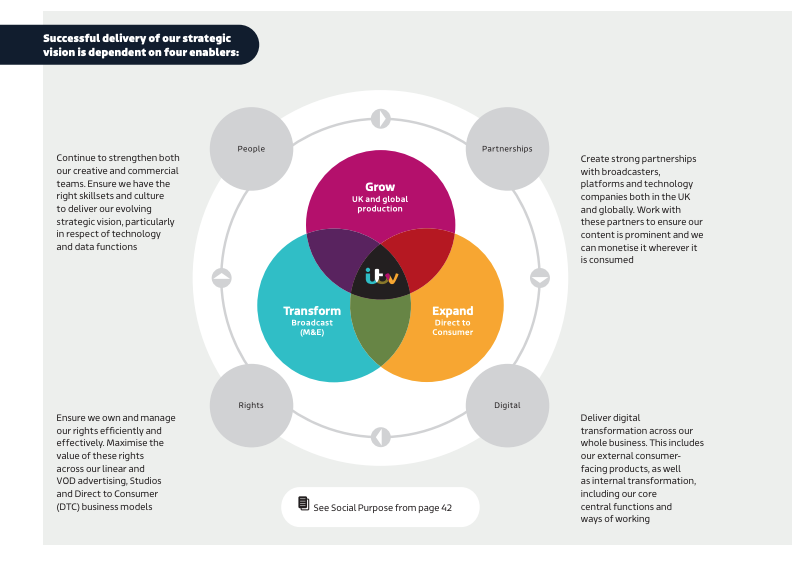 How Stardog solves rights management
ITV leverages Stardog to transform its rights service, maximizing exploitation and distribution opportunities and increasing viewer engagement. Connecting and aligning critical rights data from disparate sources, Stardog's platform is designed to be one of the foundational components of ITV's business-wide rights management service, enabling business users to determine who can exploit its content. Leveraging Stardog, ITV has the potential to manage its rights with greater agility and flexibility.
"Managing content rights can be challenging, because our current systems are difficult to navigate, and rights data is complex. As a result, confirming a rights position often requires expert attention," said Tom Griffiths, Director of Technology Content Supply & Distribution at ITV. "Stardog's knowledge graph technology was the best fit for our needs, and adopting it as part of our strategy will contribute to operational efficiency and increase business users' ability to self-serve."
More specifically, ITV selected Stardog for its ability to improve decision making using its key capabilities, including:
Learn more
Seeking a better way to manage the rights of your content portfolio? Learn how Stardog's platform represents complex relationships, supporting your ability to effectively manage and maximize rights.