Print was one of the first industries disrupted by digital, forcing publishers to transform their businesses. How did the winners succeed? By monetizing their content through digital product development. This trend of data monetization has spread to other industries; energy, financial services, and high tech have increasingly pursued data monetization strategies. Most importantly, data monetization is also shown to correlate to strong market performance.
There are lessons in the successes of these publishers who delivered new products leveraging proprietary content. Take the New York Times; its digital turnaround is attributable not just to getting smart at "digitally native" tactics for customer acquisition, but also to a new mindset of product experimentation. By turning existing puzzle and recipe content into standalone Crosswords and Cooking apps, the New York Times Company created new channels to increase subscriptions. Last quarter, these apps accounted for 20% of net new digital-only subscribers.
Most companies aren't so lucky to own such consumer-ready content. For publishers in the scientific, technical, and medical market, the key is providing offerings that solve real problems. Wolters Kluwer morphed from an educational and medical publisher to a leading provider of tax and medical software solutions. CEO Nancy McKinstry attributes the publisher's successful digital transformation to a transition to providing expert services:
"Now if you look at the next transformation that we've been on this journey, is around these expert solutions. And that's where again, we bring content, or domain expertise together with technology. We develop a tool and we deliver it to our customers and the tool gives them enormous value. Whether it's productivity, or insights, or better outcomes, really demonstrable results that the customer can see…. [A]bout 50 percent of our revenues now come from these expert solutions."
Turning content into expertise
A path to successful data monetization is to turn your content (or any other data) into expertise. Publishing companies and scientific research companies succeeded in bringing innovative new digital products to market using a Knowledge Graph. These new products allowed these modern publishers to succeed at turning content into expertise, just like Wolters Kluwer.
A Knowledge Graph turns data into knowledge by enriching data — whether that data is facts extracted from articles, webpages, or databases — with its real-world context. A Knowledge Graph is flexible and reusable, allowing the same data to be expressed with different meaning for multiple different applications. It is an increasingly critical tool for data monetization given its ability to unify internal and external data of any structure, support rapid release cycles, and serve as the underlying infrastructure for numerous applications.
Springer Nature uses Knowledge Graphs as their digital backbone
With over 175 years of experience in academic and professional publishing, Springer Nature is a global market leader at a scale unrivaled by most academic publishers. Springer Nature receives more than one million article submissions and publishes over 300,000 articles across almost 3,000 journals and 13,000 books per year.
In 2016 Springer Nature expanded their portfolio to include subscription-based datasets and databases. Their Database and Solutions offering provides consistent, complete, and on-demand data from a combination of diverse data sources centered around a particular topic. By subscribing to these datasets, academic, government, and corporate researchers can access the most up-to-date information. Using an online portal, users search for topics and entities and can interact with data to get the comprehensive and connected information they need to further their research.
To meet end-user and internal requirements, the Database Group needed a flexible and dynamic data infrastructure that allowed easy iterations and updates within existing data while also providing context embedded within search results to end-users. By unifying their data in a Knowledge Graph, the Database Group created a single declarative model to bring all the connections between the content into a unified view.
SpringerMaterials is the world's largest research platform dedicated to organic and inorganic materials.
Users can now access one of the most comprehensive, multidisciplinary collections of materials property data—more than 290,000 materials—across the research sciences. Learn more about SpringerMaterials and other solutions powered by Stardog.
Scientific research company creates new drug discovery platform
Recognizing that pharmaceutical R&D organizations were increasingly turning to analytics to aid in drug development, a scientific research company launched a new data platform. The platform is designed to maximize the value of available research data. The company recognized that value lay in combining not only their own content, but also customers' proprietary data, as well as third-party sources.
"We designed (the platform) to handle the sorts of data challenges that life sciences companies encounter – from handling huge volumes of existing data stored in individual Electronic Lab Notebooks, to finding the desired piece of information in scientific literature." — Managing director for life science solutions
The platform unifies data from various silos and enriches data with all relevant context. A Knowledge Graph accesses data remotely using virtualization, allowing disparate sources to be easily accessed and kept up to date.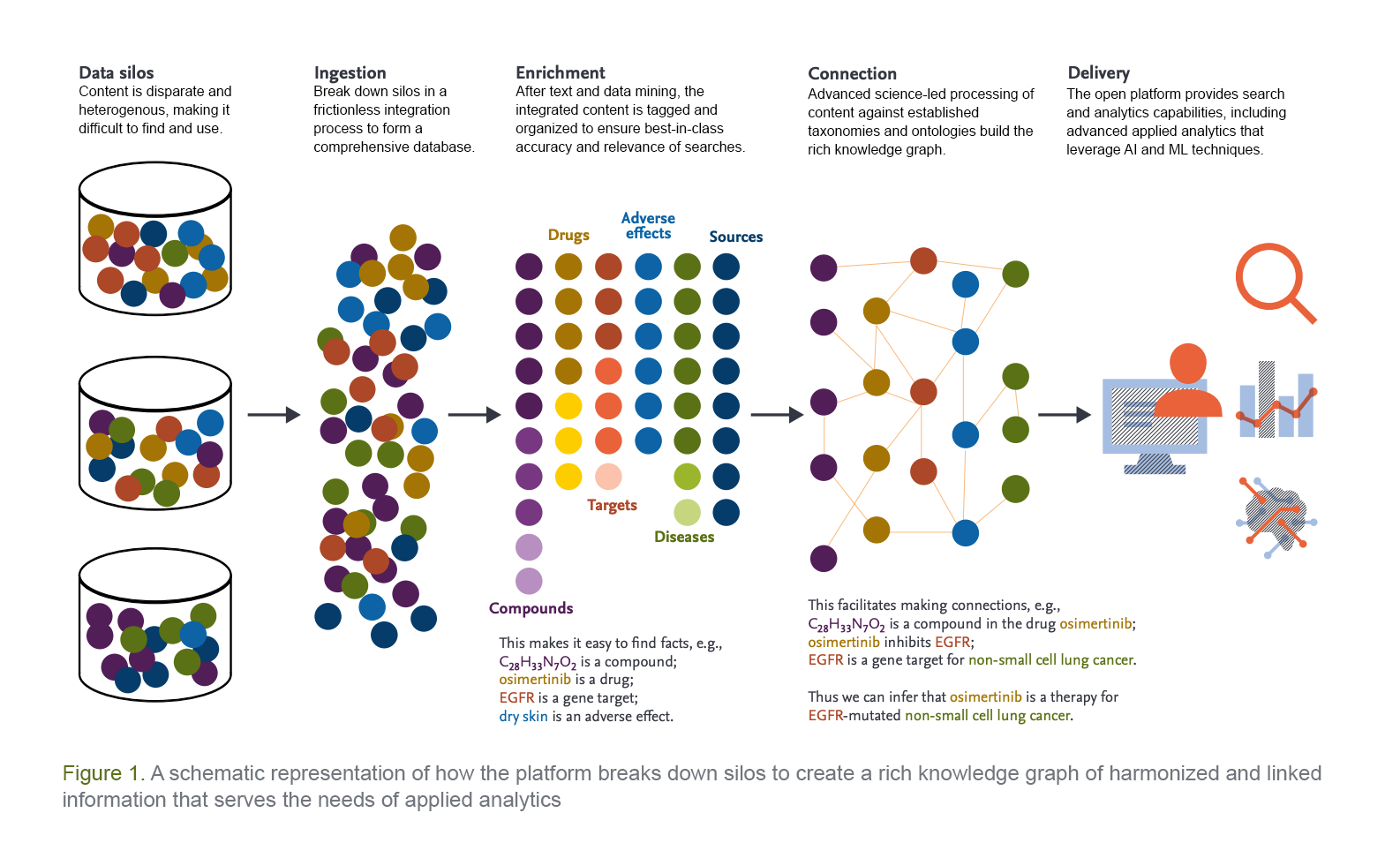 The platform unifies and enriches data from across silos. The expressive Knowledge Graph "ensures best-in-class accuracy and relevance of searches."
Get started today
Stardog is the leading Enterprise Knowledge Graph platform, offering a flexible, reusable data layer to power your applications. Learn more about analytics modernization using knowledge graphs here.