After two Gartner Data & Analytics (D&A) Summits in 2023 — one last week in London and one earlier this year at Gartner D&A in Orlando — it's clearer than ever that knowledge graphs and generative AI will play central roles in modern data and analytics, increasing time-to-value across industries and use cases.
Knowledge Graph is the "Secret Sauce" in a Data Fabric, Acting as a "Rosetta Stone" of Business Language
Gartner VP, Analyst Ehtisham Zaidi presented "The Practical Data Fabric—How to Architect the Next Generation Data Management Design" to a packed house that needed an overflow room, which was also full. It's going to need a bigger space next year!
So why are knowledge graphs central to a data fabric, or any modern data & analytics data management strategy? Business needs are driving enterprises to do more with their data. The Gartner keynote noted there will need to be a "Rosetta Stone" to master the language of business—to translate technical data into actionable business language. This is the job of the knowledge graph by way of connecting the data, and then acting as a semantic layer in order to provide business context, activate metadata, and make data more meaningful to consumers who ultimately rely on it to advance business goals.
Key takeaways from the Data Fabric session at Gartner included:
Data Fabric = Metadata Analysis + Recommendations
Collect and activate metadata - not just technical meta-data, but importantly, business metadata to find data and insights
Build a semantically enriched knowledge graph to connect relationships between objects and allow SMEs to model data with meaning and enable intelligent decision-making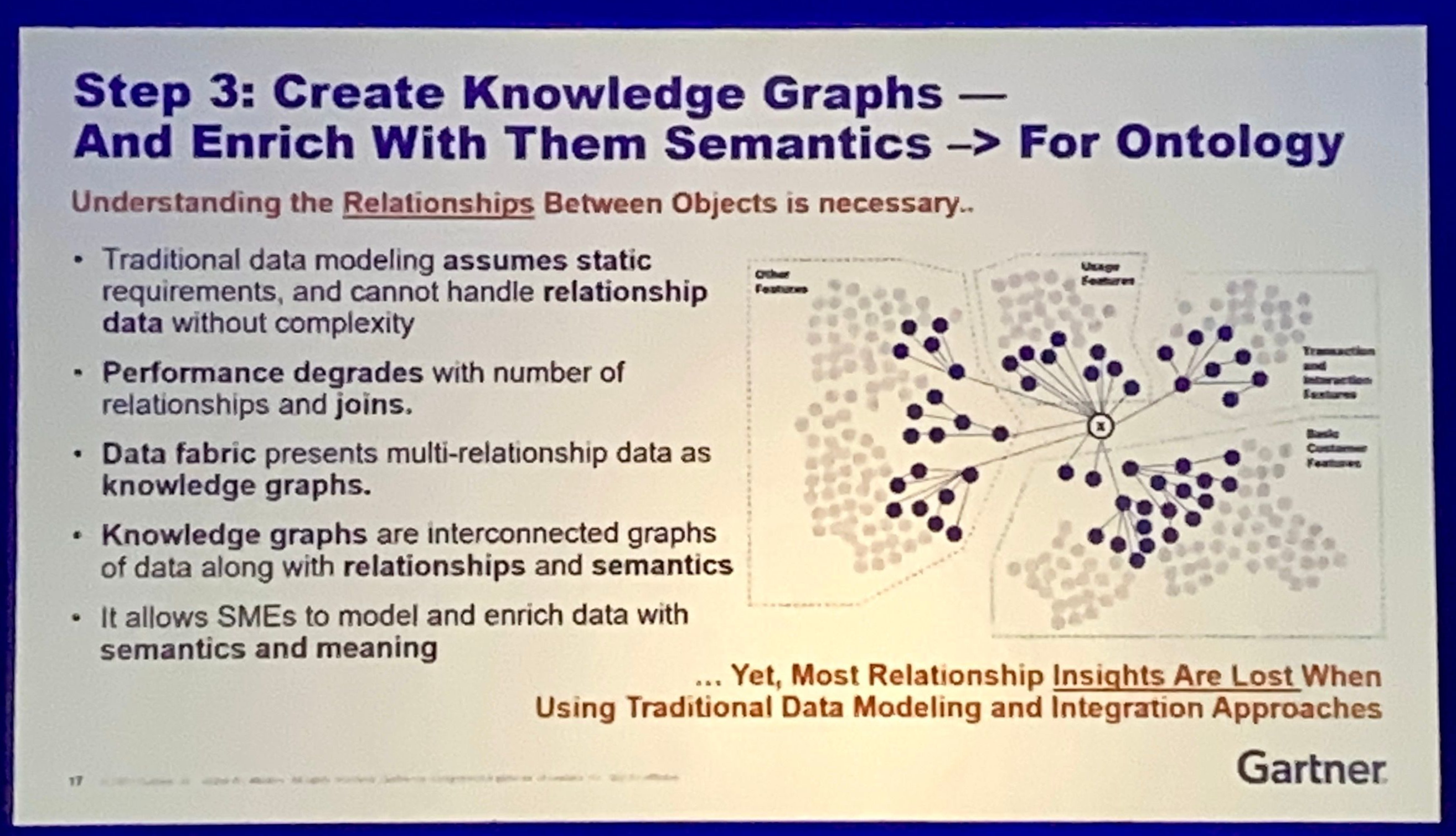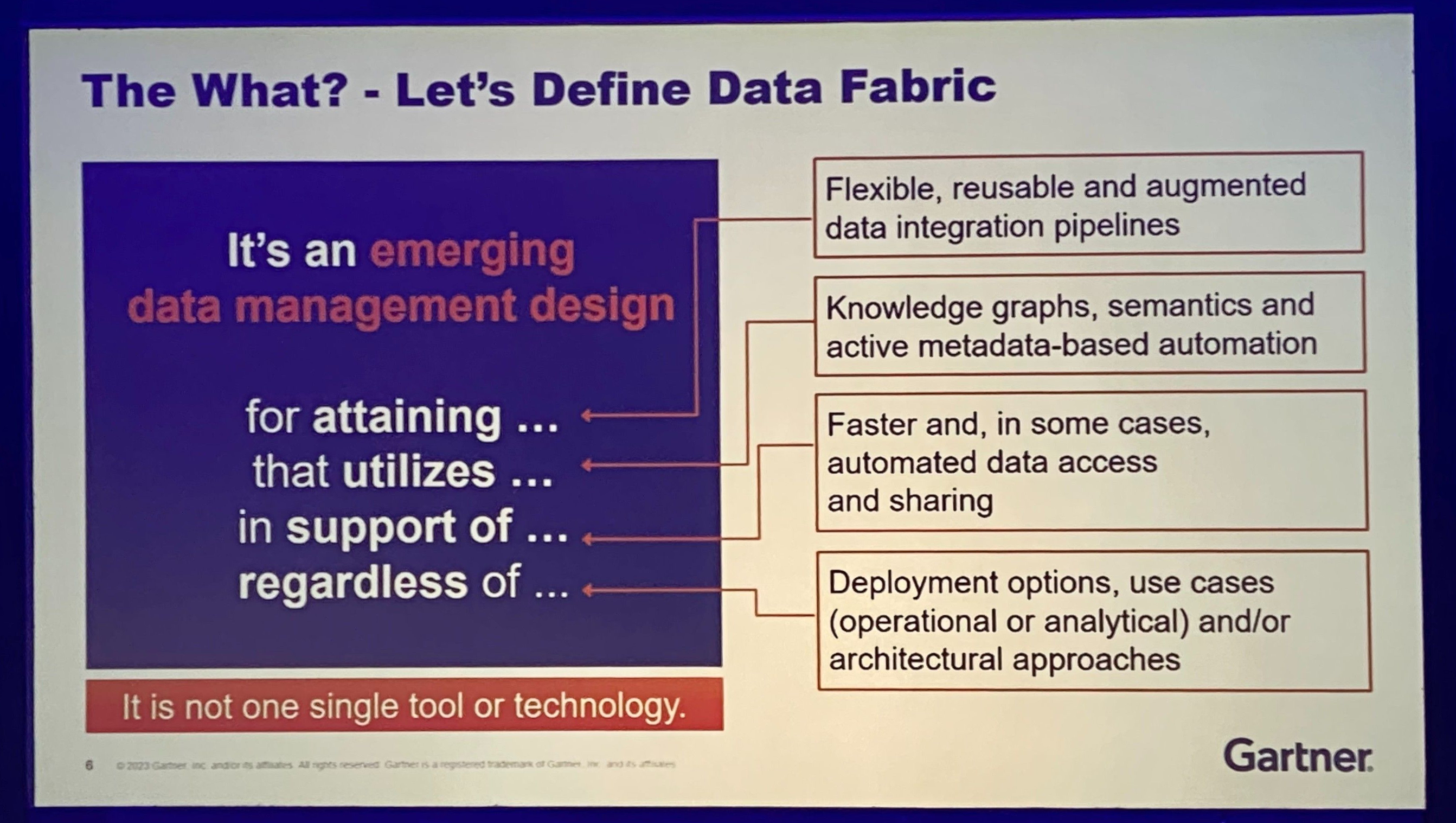 At our booth, we spoke with many attendees about data trends like data fabric, data mesh, knowledge graph, and AI; and fielded many questions about how Stardog technology differentiates itself. While other graph vendors built their technology as relational databases, requiring data to be explicitly linked before making connections between data and relationships, Stardog was built as a true knowledge graph on RDF standards. This allows the Stardog Knowledge Graph to store relationships as triples (two data points or "nodes" and the relationship between them or "edges"), thus enabling the knowledge graph to find previously unseen connections.
Our approach arms everyone in the enterprise to make connections using their own experience and perspective, thus driving intelligent decisions.
AI is Making Everything Exponential
Gartner's main takeaway about AI is a message about leadership—that is, AI will not replace data and analytics professionals (yet), but data and analytics professionals that do not use AI will be replaced. Generative AI, such as Large Language Models (LLMs), has the power to automate, quicken, and democratize data management, giving the business units a more active role in how data will be architected through the enterprise data stack—or at least how it will appear once it hits the data consumer.
As we point out in a recent blog about how LLMs will accelerate knowledge graph adoption, the combination of knowledge graphs with machine-understandable semantics powered by LLMs will fundamentally flatten the Enterprise Knowledge Graph implementation cost curve, and that's just one benefit.
Advances in the development of no-code interfaces and LLM-powered tools like Stardog Voicebox are making the power of a knowledge graph more accessible to everyone in an enterprise. Here's a version of the demo we were showing at our booth:
Do You Know What a Knowledge Graph Is?
Stardog has been using Lego blocks to survey conference attendees about what's happening in the market for many months. While clearly not scientific, it's interesting to see the responses to our question, Do you know what a knowledge graph is? At Garter Data & Analytics in North America 2023, 67% of the people we spoke with said Yes, they do know what a knowledge graph is. At Gartner Data & Analytics EMEA in May 2023, 53% said Yes.
For us, the real story is in the context of the conversations we had around what defines a knowledge graph, which use cases exist currently, and how the need for specific technical skills is no longer a barrier to entry.
We'd love to talk to you more about what we learned at the event. Better yet, skip the wait and try Stardog Cloud free now.
To learn more check out these assets