We are excited for you to experience the latest innovations in the Stardog v8.2.0 release. The primary mission remains to accelerate data exploration and discovery for all citizen data users so they can unite data and unleash insights. This release contains several new features and many improvements that close the gap between data and insights.
Join me and our product team on Wednesday, December 14 at 11:00 AM Eastern time as we walk through these latest features and provide a preview of what's next.
And now, here's a look at the new stuff in…
Stardog Designer
Inference Rules are now part of the modeling process in Designer and are created visually (similar to Advanced Query in Explorer) so no need to know a specialized language. Rules are published with the rest of the model, eliminating extra steps.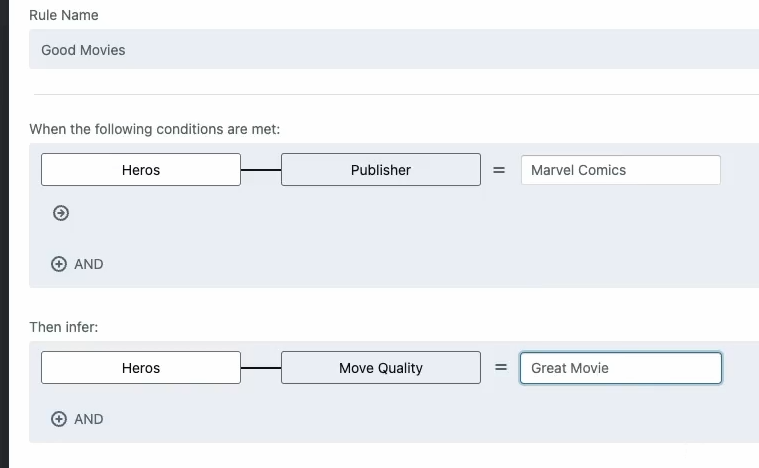 Sensitive property groups can be defined which provide granular control over which users have access to specific data values, keeping key data secure.

Enhancements to the publishing workflow allow users to automatically create a new database on the fly when publishing from Designer. This prevents the extra step of creating a database prior to modeling and mapping the data.

Users can select a table from a datasource when creating a new virtual graph instead of writing custom SQL queries, making knowledge graph creation even faster.

Designer provides mapping suggestions from a selected project resource (SQL table or CSV file) to one or more knowledge graph classes in a single step. This reduces modeling work to create your model in even fewer clicks. ​​​​​
Stardog Explorer
It's easier to control the visual complexity on the canvas with an updated view options dialog where you can truncate labels and remove relationship labels altogether.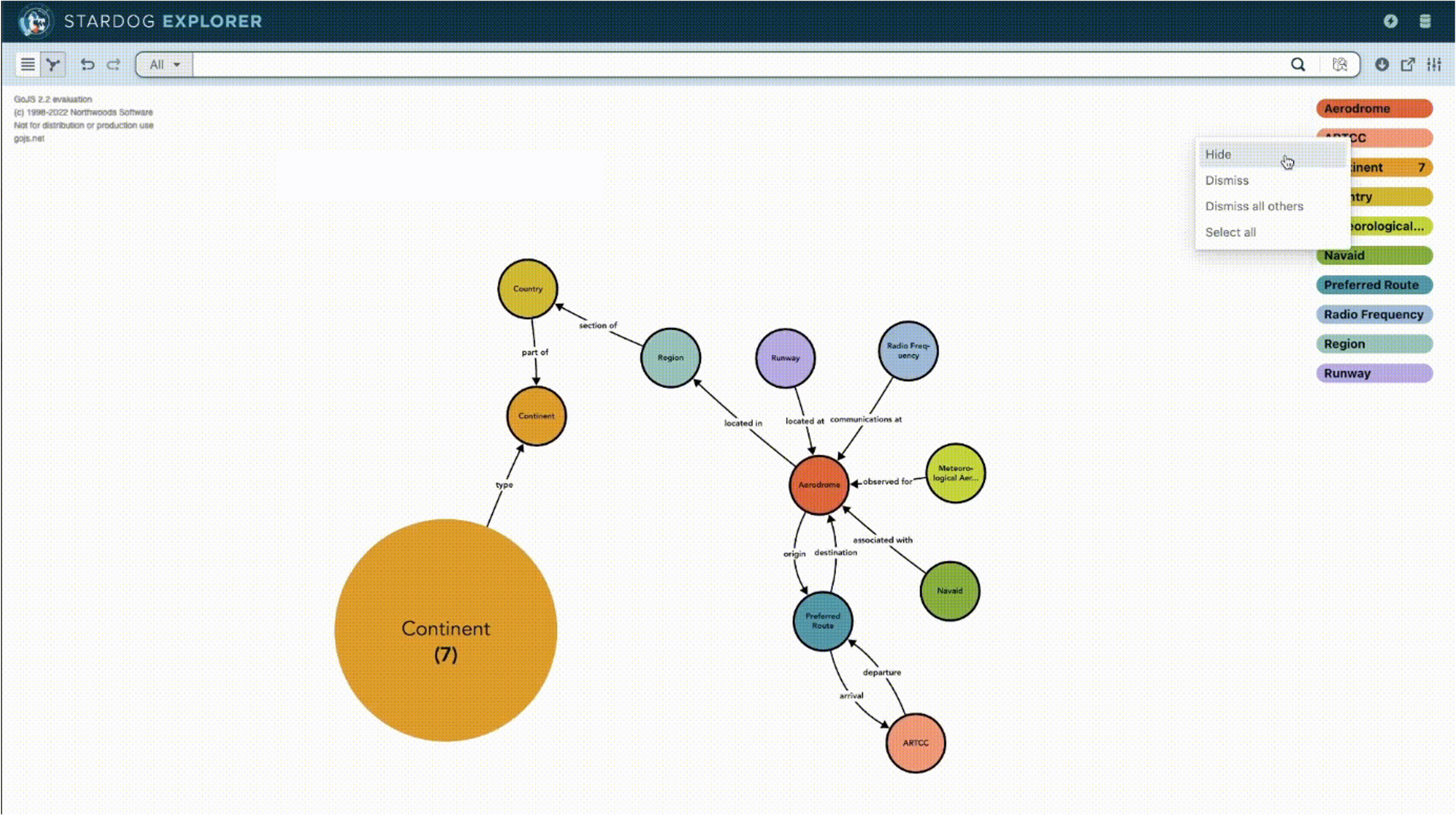 The layout was optimized so there is less overlap between components. The components will not rearrange when adding new nodes to the canvas and there is a new option to re-draw the graph.

We've made Advanced Query more intuitive when specifying date values and improved string-related search performance by providing string suggestions so you'll know what's possible to search.
Stardog Cloud
We completed the Stardog Cloud integration with AWS PrivateLink; you can create virtual graphs to data sources within your own AWS VPC securely. The feature is currently in private preview. Reach out to me if this is something you'd like to discuss or trial.

There are two new use case demo Knowledge Kits available - the Experimental Protocol for Life Sciences and Customer 360. These are a great way to get started on your next project.

We also rearranged and categorized the Knowledge Kits to make them easier to browse and access from the main page.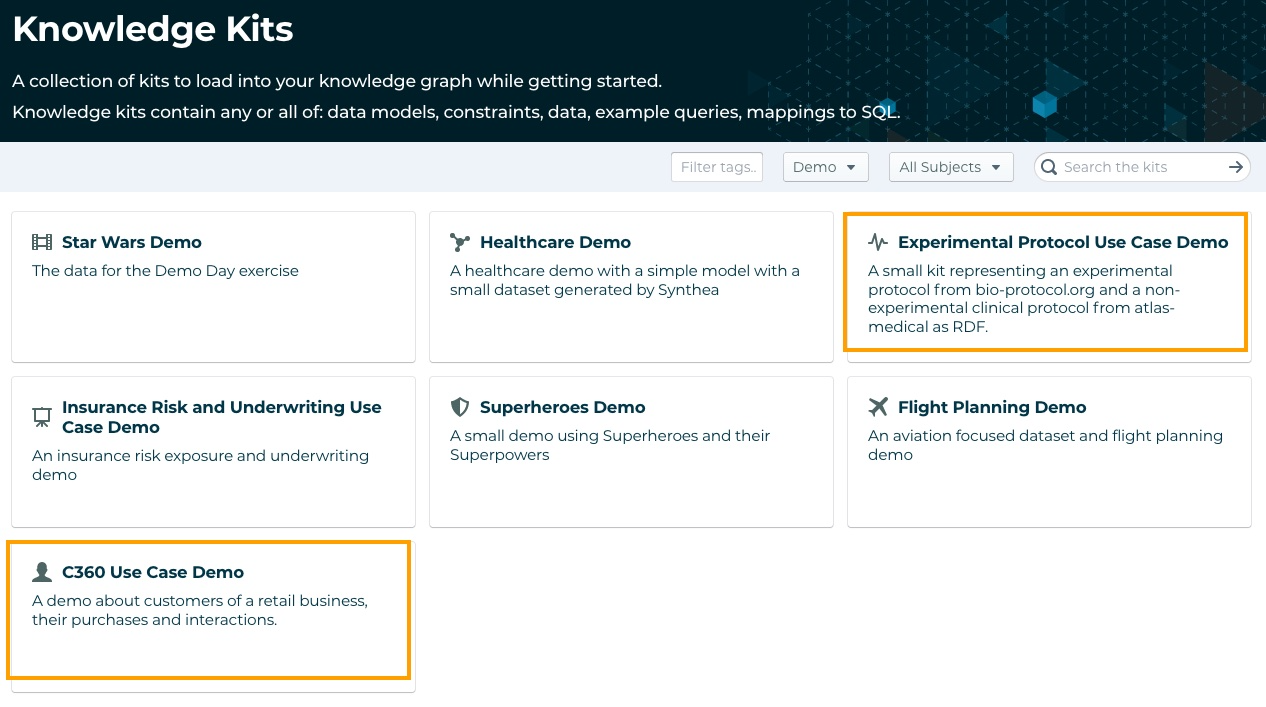 Stardog Platform
Databricks users can now automatically create data ingestion pipelines utilizing Databricks Spark, turning virtualized connections to delta tables and external sources into cached or materialized views on Stardog.

We improved performance for federated queries by a factor of 10 based on BSBM benchmarks.

We added support for database backup and restore on Microsoft Azure Data Lake - Blob Storage.

As always, a full list of changes in this release is available in the Release Notes.
All these updates are available to you today as part of the Stardog v.8.2.0 release. If you have any questions, your Customer Success Manager is standing by to help. You can also join the conversation in our Stardog Community.