Stardog recently attended and presented at the Gartner Data & Analytics Summit, where we explored the position that "Enterprises are heading not toward a "new normal" but rather a "no normal" — an environment of uncertainty and ambiguity that requires continuous flexibility, innovation, and investment or reinvestment in data and analytics strategy."
This theme, chosen by Gartner, reinforces many of the positions held by Stardog. We'll give you a quick summary of the conference and our takeaways here.
Hello Data Industry; Nice to See You in Person
"It was good to interact with people from the industry again!" said Steve Fuller, Stardog's Vice President of Solutions Consulting and Engineering.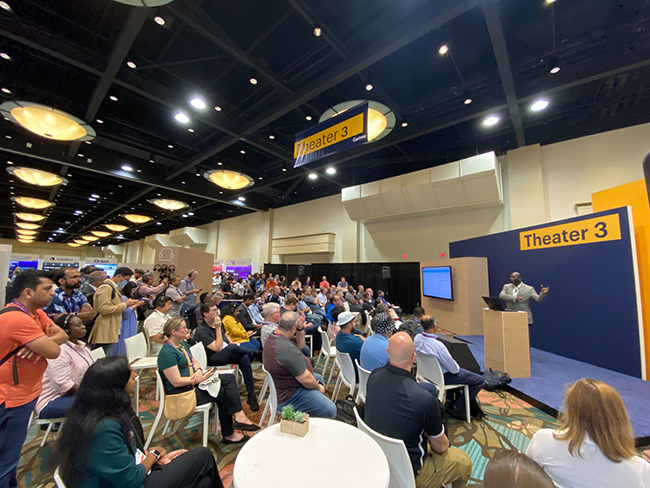 Fuller gave a well-attended (and engaging) session on a unique way to uncover new insights and answer complex queries — with a semantic layer.
"The concept of a knowledge graph as a semantic data layer is resonating with the market and gaining a lot of traction," he said.
Data virtualization and data optimization were key themes Stardog discussed at the summit. Translating from relational databases to knowledge graphs can be a huge benefit. Fuller articulated the use cases that Stardog targets, including AML/fraud, entity resolution, manufacturing and supply chain, and drug discovery and research.
Bringing Business to the Forefront
This stress on business use cases is essential, and a concept Laura Firey Monroe, product manager at Stardog, saw reinforced at the summit.
"Your data and analytics projects need to be driven by a desired business outcome," she said. "The value (and therefore the cost your CFO will sign off on) will depend on your ability to prove the desired business outcome can be achieved with any new data or analytics project you have."
Which sounds simple. But in practice, it is not. It's often the case that organizations are awash in data that they know can be valuable. But they don't learn how to best leverage it. Roadblocks include the ever-changing nature of some data, security concerns, and siloed environments.
Providing a Path to Answer Questions, Questions That are Not Yet Known
Stardog's attendees all noticed one two-fold trend at the summit:
IT folks on Data & Analytics teams are struggling to provide a path to answers for questions that are not yet known.
Data & Analytics folks are struggling to identify one set of questions in this agile world where the field is amorphous.
Are organizations asking the impossible of their data? Yes and no. It's important to acknowledge this "no normal." But we can also recognize that vendors can help create data environments that work for these nearly impossible situations.
The Data Ecosystem is Complicated; How Do You Connect All That?
"Analytics, data catalog, data governance, graph, and semantic graph are all here now," said Rafael Campo, a software engineer at Stardog who attended the summit.
Campo stressed that we no longer live in a world of single-use apps that automate the business to generate more value. We live in a world where systems have to speak the same language. Systems must validate and integrate to check and balance each other. If there is a process that occurs across systems, that could be automated.
"Then the road to implementation is more like filling out a pizza order than re-doing all the bathrooms in your home at the same time," he added.
Firey Monroe concurs, pointing in particular to the value of saving enormous amounts of time during data prep, saying, "Incremental improvements in automation that reduce the time spent in data prep will significantly impact value-based work. Automation will enable your teams of analysts and data scientists to complete value-based work."
And the key to automation is leveraging metadata.
Metadata
Gartner pointed out that organizations need to realize there is more than just one type of metadata. While technical metadata is important, you should develop a strategy for collecting operational, business, and social metadata.
A data fabric will help fix some of the challenges of a data lake or warehouse and can enable greater data prep automation.
The first step to building a data fabric is collecting metadata.
The second step is leveraging that metadata to improve the automation and operationalization of your data products.
Step Three acts as a catalyst to your metadata activation, driving additional trust with your business users as data access improves.
Stardog's Enterprise Knowledge Graph Platform is a fantastic tool to help organizations build a semantic layer and data fabric. But Gartner implored attendees to remember data fabric is not a tool you can buy.
Dealing With Vendor Saturation
Data fabrics are still maturing, so do your research and consider if this investment is the right fit for your organization.
"The data management ecosystem is saturated with vendors at this point," agreed Firey Monroe.
Gartner recommends starting any evaluation by looking at your incumbent vendors. After evaluating their solutions, expand your search to compare vendors that offer products that solve a specific need your incumbent vendor lacks.
What's Next
Stardog will attend the next Garter Data & Analytics Summit in March 2023. While there, we'll continue our discussion of these themes. So, see you real soon!
In the meantime, visit Stardog's Resource Hub for reports, blogs, on-demand webinars, and more.