Stardog is pleased to announce that our Enterprise Knowledge Graph platform is now listed on the Amazon Web Services (AWS) Marketplace. The AWS Marketplace provides a catalog of software solutions built on AWS for businesses to browse and subscribe to within their own AWS accounts. Stardog's listing on the AWS Marketplace now makes it easier for our customers to access the product and enables seamless procurement and deployment of our platform. AWS Marketplace allows customers to procure Stardog via a consolidated purchase environment and integration with their AWS accounts, which have terms already established.
The release follows our recent launch of the Stardog Cloud. Stardog's listing on the AWS marketplace for enterprises allows you to get started quickly with our highly performant and scalable platform.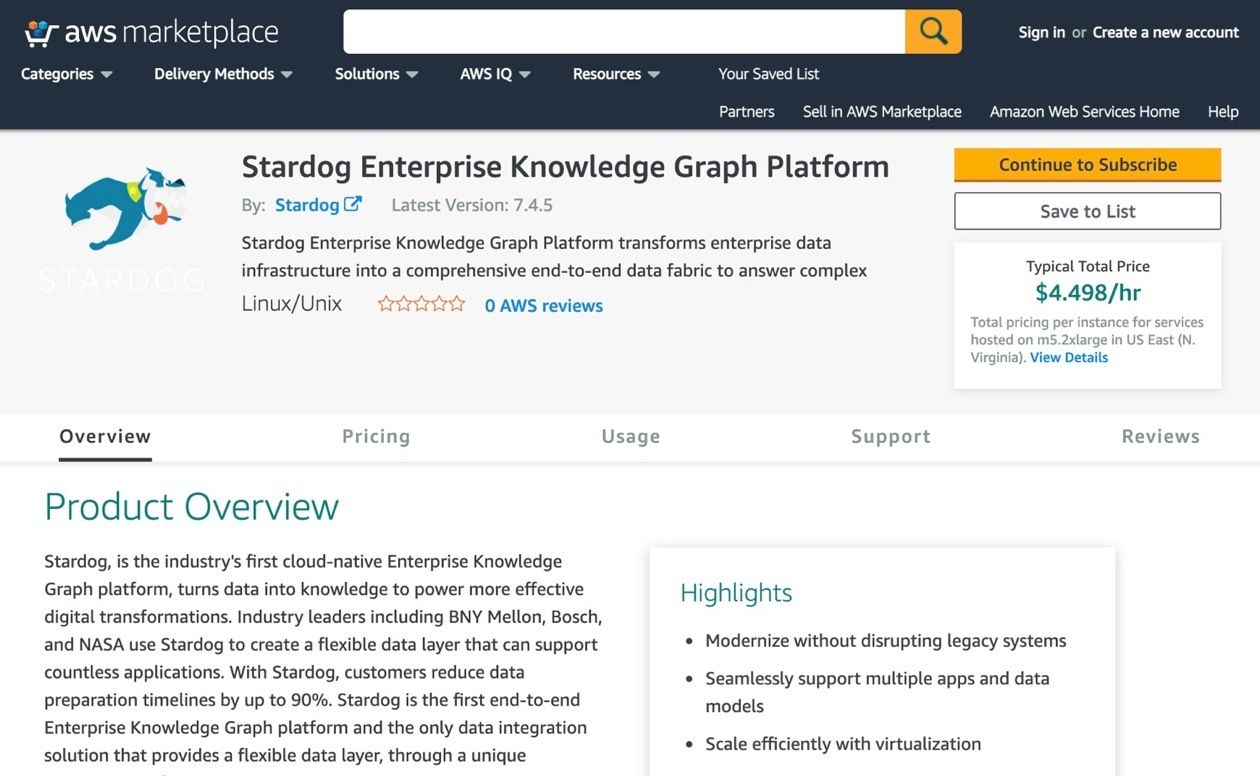 Stardog is the industry's first end-to-end Enterprise Knowledge Graph platform and the only data integration solution that provides a flexible data layer, through a unique combination of graph storage and virtualization, allowing enterprises to answer their toughest questions.
Stardog's listing on the AWS Marketplace brings to you all the fundamental benefits that accrue from the platform including the following capabilities that set us apart from other vendors in the market.
Stardog Studio
Inferencing
Full text indexing
Virtual Graphs
BI Server/Connector
Geospatial Calculations
BITES pipeline
Community Support
Apache Nifi
Learn more about Stardog's features here.
The Stardog AWS Marketplace listing is for non-production type environments and therefore restricts high-availability clustering, backups, remote authentication through external LDAP, and Kerberos support.
Start Today
Contact our team to get additional information on custom offers and use in production environments. Click here to deploy Stardog.