The Data + AI Summit organized by Databricks took over the Moscone Center in San Francisco last week, riding the wave of Databricks' recent acquisition of generative AI start-up MosaicML for $1.3 billion. As a Databricks partner in Semantic Layer technology, Stardog was there to share our own innovation in deploying AI in order to gain insight from enterprise data, including LLM-powered Stardog Voicebox.
Democratize Data + AI to the Next Level
Databricks CEO Ali Ghodsi led with the high-level mission of democratizing data + AI. Their goal? "Data democratized to every employee. AI democratized in every product." Organizations are hungry to capitalize on the emergence of generative AI into the mainstream. The MosaicML purchase will help Databricks customers build their own LLMs. "Your AI built on your data is what will set you apart," shared Ghodsi. He advised organizations to hone their own models, focusing on domain-specific areas, in order to curate and fine tune the models to reflect their own unique IP and reduce costs associated with using more generic LLMs such as ChatGPT.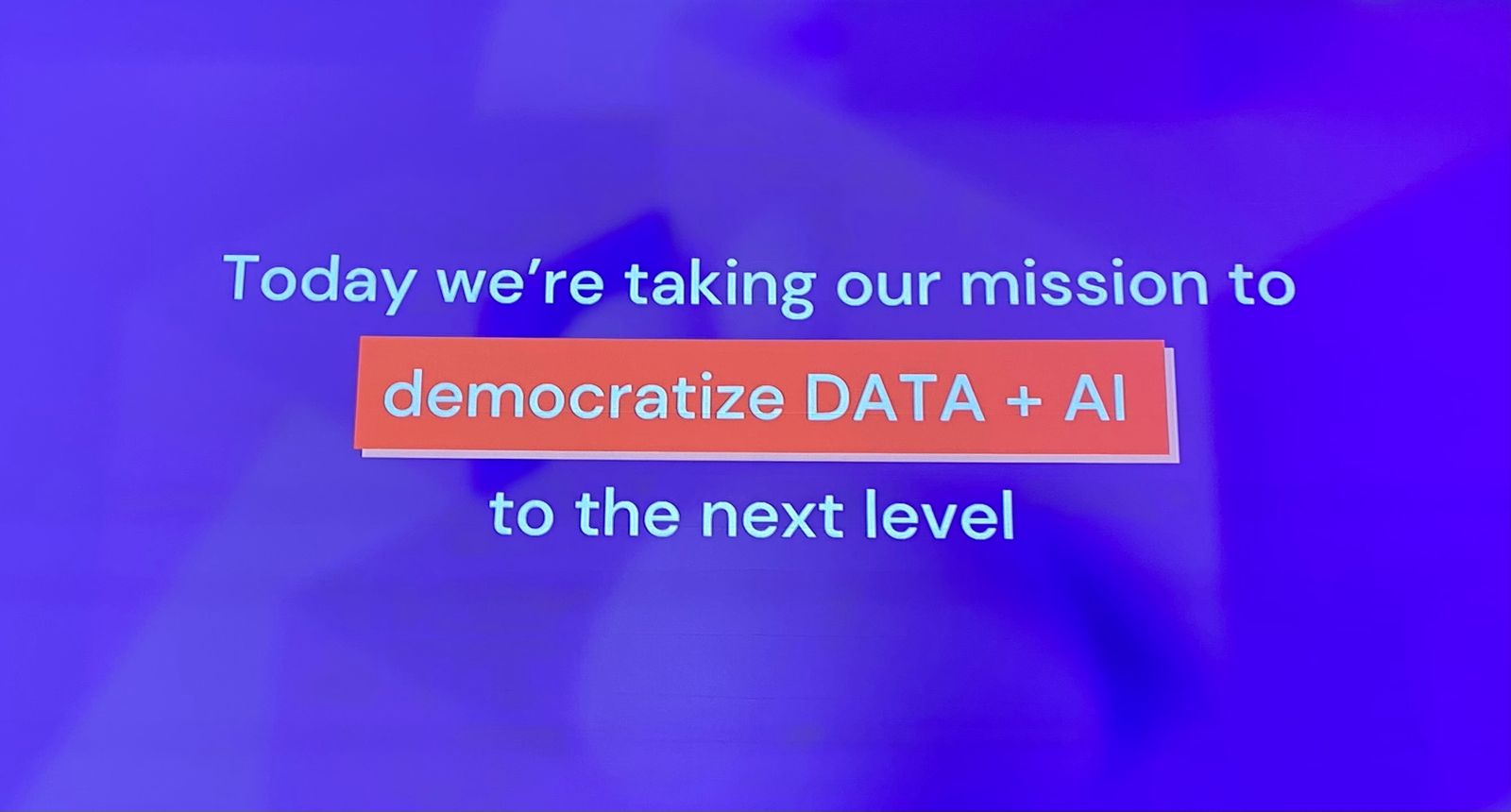 "The hottest new programming language is English." - A. Karpathy
We share Databricks' mission of "democratizing data analytics across the whole enterprise." English was extolled as the latest programing language in a nod to the rise of generative AI. The ability to build, explore, and query enterprise data in plain English — in your own business language — suddenly removes obstacles to insight and opens the floodgates to true data democratization. LLMs enable technology providers like us to expand innovative data tools outside the limited circle of technical users to the entire enterprise. As we have seen with the rise of ChatGPT, Bard, and other LLMs that use artificial neural networks to generate text, data consumers are taking advantage of no-code interfaces to participate in the building of their own technical content.
Preparing Your Data for ML and AI
Stardog, whose founders met at an AI lab, was predicated on a long-term bet that the data management and knowledge management were on a collision course set out by Google. We believed the knowledge graph to be the intersection point, and that prediction is tracking correctly.
Unlike other graph companies, Stardog is built on RDF standards as a true knowledge graph, allowing customers to store relationships and their data points in many:many instead of a tabular 1:1 or 1:many form. This led the way for two things: 1) a semantic layer that connects and translates all your data in the context of your unique business meaning; and 2) a powerful inferencing tool that finds relationships among data points that were never distinctly joined.
The value of a true knowledge graph in the context of AI and ML prep is giving data consumers access to a semantic business layer over your source of truth, feeding machine models on data that is more likely to align accurately with your organization's data, IP, and business models. For our customers, the Stardog Enterprise Knowledge Graph platform has proven mission critical to getting through R+D faster and beating competitors to market with use-cases from proactively addressing complex fraud to building "The Factory of the Future," as Teresa Tung from Accenture presented at DAIS—watch that presentation here.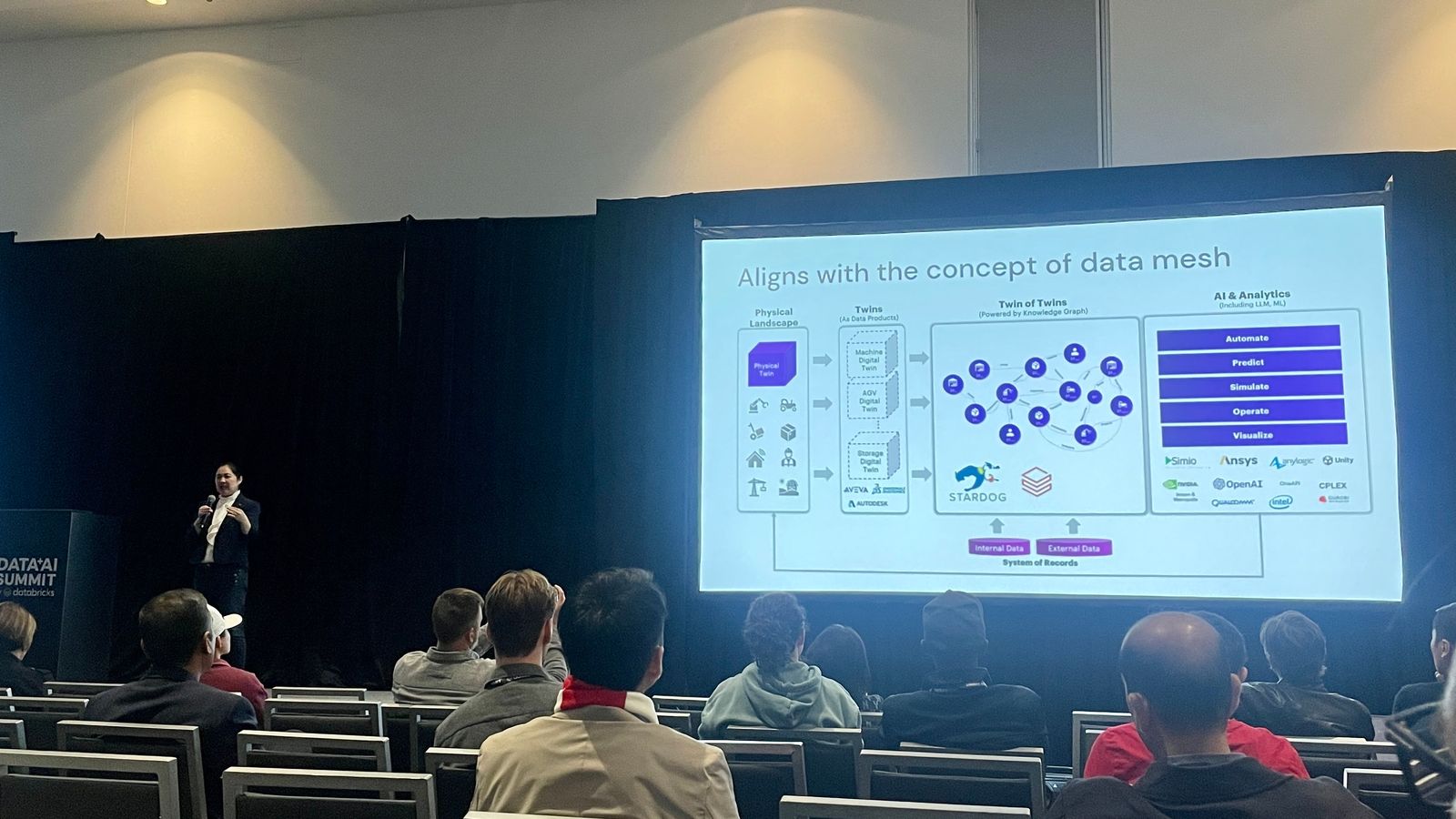 By being first to market with our LLM-powered Voicebox, Stardog is reducing barriers to entry for organizations to more quickly build a data vocabulary for their enterprise with a knowledge graph-powered semantic layer in their quest to modernize their data architecture, thus reducing time-to-value.
Databricks Enables a Strong Partner Ecosystem
DAIS was an excellent way to see our Databricks colleagues face-to-face, as well as engage with other organizations in the Databricks Partner Connect ecosystem. On the heels of investment from Accenture and formal integrations with Collibra and Microsoft Purview, it was great to spend time with all three companies.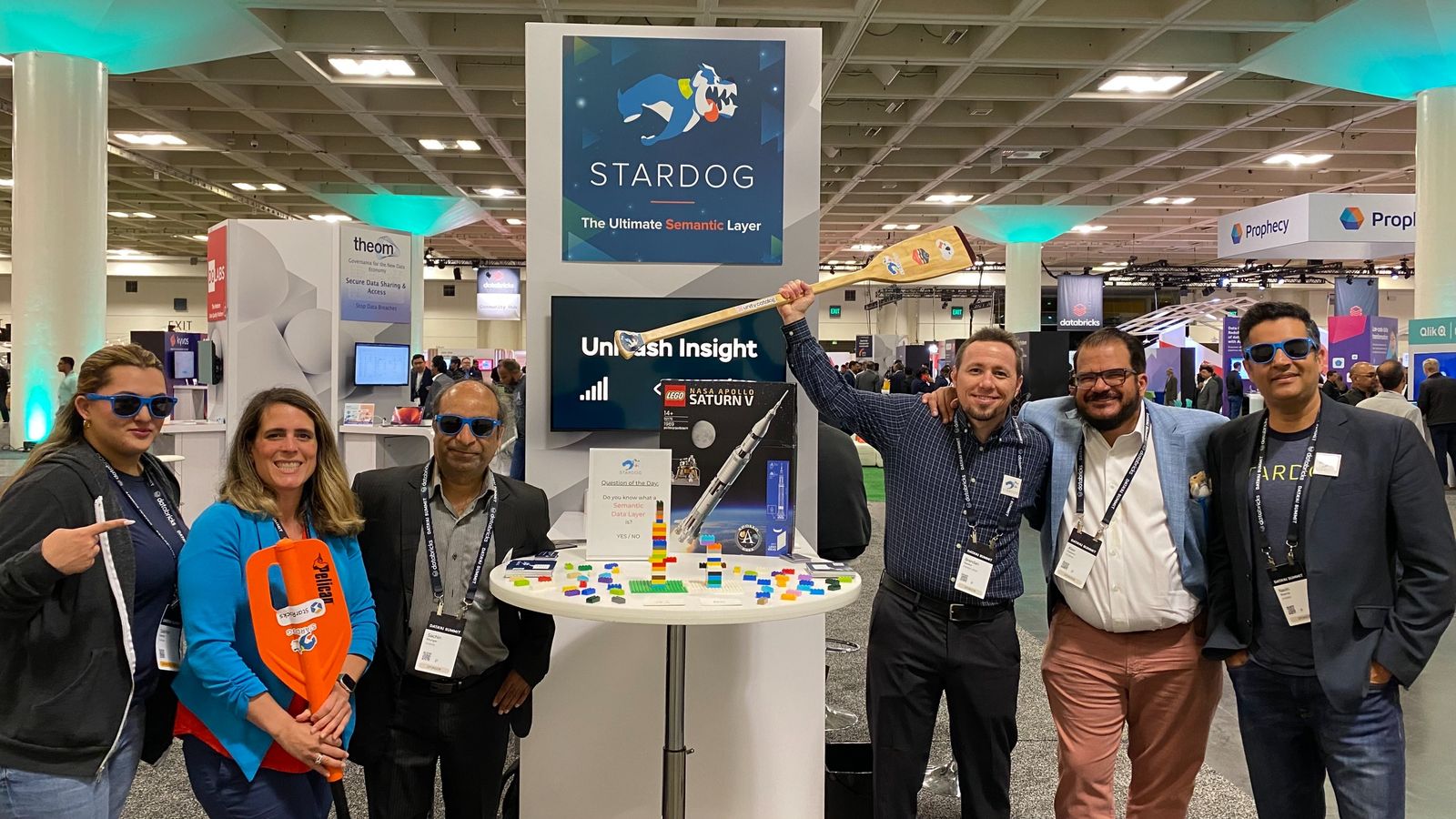 Legends and Heroes
A true highlight of DAIS was the keynote fireside chat with Databricks CEO Ali Ghodsi and Marc Andreessen. Among many enlightening tidbits, Andreessen shared that the pioneers of AI are not around today to see this sudden acceptance of artificial intelligence into the mainstream. They believed, even in the face of skepticism. They are The Legends.
Andreessen also addressed fears surrounding the rise of AI. Regarding if jobs will go away, Andreessen stated, "that's a zero sum theory." When machines do the work, people will have more time for "other stuff", which he sees as job growth. "There are always more programs to write. No one ever runs out of ideas that software can solve." This leaves room for The Heroes.
Now that more humans can participate in the creation of software, the sky's the limit.